Urban resorts are a trend on the rise. They offer immersive experiences and a sense of retreat, despite being in an urban setting.
Fortitude Valley, Brisbane, Queensland, Australia
Great hotels have stories that go beyond providing a bed for the night – they offer moments of discovery, unexpected adventures, encounters to be savoured and retold.
Once upon a time on James Street …
AU$332-AU$449
AVERAGE RATE PER NIGHT
Designed for people who know what they want – people who've seen average, but don't plan to settle for it. Our rooms look good – but wait until you experience how they feel.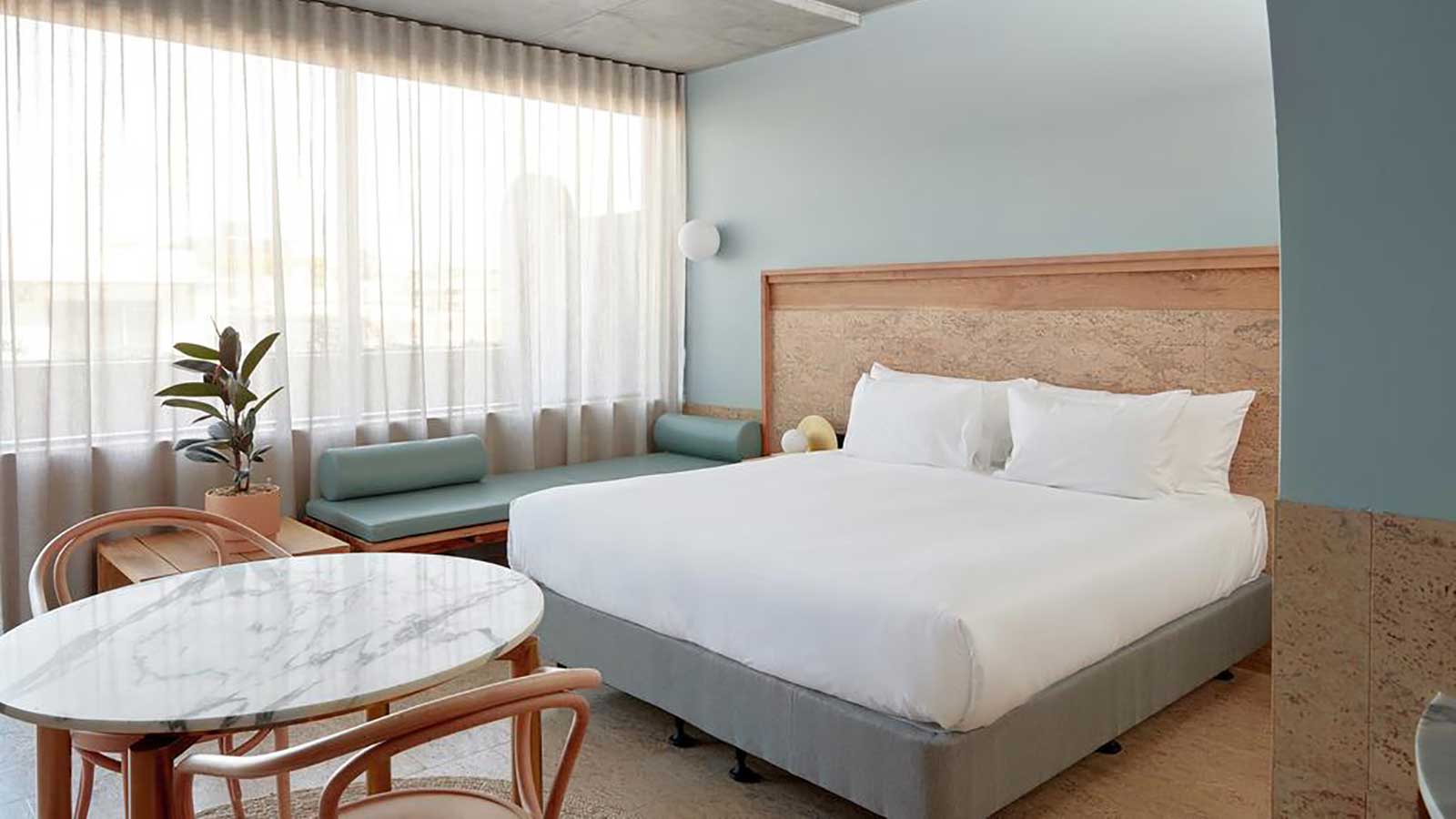 Based on lead-in 'Essential Room'
Whether your day has been back-to-back business meetings or a boutique-to-boutique adventure on James Street, where better for your down time than somewhere that's more personal oasis than hotel room?
From the cork floor that's waiting to meet your bare feet, to the natural marble surfaces and cool oak trim, this room has such a sense of calm that you can almost hear it chanting 'om' under its breath.
Stream a new-release movie, make your own kind of music with the Bluetooth sound bar or just soak up the silence. Wake to filtered daylight once the sun rises, or lower the block out blinds for a sleeping environment that redefines black. The choice is yours.
This room is all about you.
27sqm
King size bed
Twin single beds available on request
Living area with day bed and dining table
Custom crafted oak furnishings, marble surfaces and brushed brass accents
Locally sourced in-room mini bar and Nespresso machine
Grown Alchemist bath amenities with linen bathrobes and slippers
UHD television with Chromecast and sound bar
Complimentary Wi-Fi
THE LOBBY BAR
Open for breakfast, lunch and dinner daily – Lobby Bar is the ideal location for an espresso in the morning, an espresso martini at night and everything in-between.
HELLENIKA
Open for breakfast, lunch and dinner daily, Hellenika serves authentic Greek fare in a sophisticated poolside setting with a big taverna heart.
SK STEAK & OYSTER
Open for lunch and dinner every day for delicious food and a few too many Martinis. Serving quality, classic dining – choose a booth or sip drinks in style at the piano bar.
SAME SAME
Located on Ada Lane, Brisbane's elegant take on street-inspired Thai food is open for Dinner Tuesday – Thursday and Lunch / Dinner Friday – Sunday. Onsite bar and group dining options are also available.
KAILO MEDISPA
Your perfect sensory escape. Decompress, rejuvenate, revitalise.
Shaped by the elements – reclaimed timbers, stone, the gentle fall of water – Kailo Medispa summons the serenity of a forest glade, transporting you from the quotidian to the sublime.
Understated, rather than overstyled, the Kailo Medispa is your sanctuary under the arches of The Calile.
THE GYMNASIUM
If your commitment to 'you' time doesn't end when you pack a suitcase, The Calile's well-appointed gymnasium provides a host of sophisticated equipment and personal training methods in a boutique space with well-considered and luxurious facilities.
CABANAS
Your outdoor room, built for breezes. Stretch out on a day bed so comfortable it's suspected by some that it can stretch time.
Recline, relax, read until the water calls you again. Refresh, repeat.
Reward yourself with food of the gods from Hellenika, once you've burned a few calories with your freestyle. Or once you've put in some dedicated time doing very little. Indulgence too is a fine thing.
POOL DECK
It's a rare hotel that manages the special alchemy that takes water, adds ambience and turns it from a pool into a destination, a place to remember. A place to come back to. Perfect for laps, perfect for relaxation and easily big enough for both.
Warning: this pool will spoil you. You will never again settle for the eternal twilight of laps in a basement, or a tub on the roof that's two strokes and a tumbleturn long.
LIBRARY
Tucked in its own private enclave, the Library is both a place to connect and disconnect with business centre facilities nestled alongside a collection of tomes and magazines to love and leave during your stay.