ISLAY, EDINBURGH & SPEYSIDE WHISKEY HOLIDAY
Small Group Tour
Savour the experience of Scotland's finer distilleries on this comprehensive tasting tour from Edinburgh.
PLACES YOU EXPLORE
The Islay Distilleries – On an island known locally as 'The Queen of the Hebrides', there is a regal quality to the distinctly peaty style of its single malt whiskies.
Bowmore village – The white-washed cosy 'capital' village of Islay has more whisky than you'd dare to believe.
Sandy beaches of Islay – Stroll some of the most beautiful and rugged beaches in the UK along Islay's West Atlantic coast.
Loch Lomond National Park – Admire the views and take postcard-perfect photos to share with your friends and family.
Cairngorms National Park – The area boasts four out of five of the UK's highest mountains. What's more is there's a lot of gorgeous flora and fauna.
Speyside – Quite literally whisky heaven. There are more distilleries per square mile here than anywhere else.
Speyside Cooperage – Learn about the lifecycle of a whisky cask.
Royal Deeside – Throughout history the Royal Family have loved exploring this gorgeous region of Scotland.
Glencoe – Your Travel Director will lead you on an orientation of this Highland village on Loch Leven.
Loch Lomond: Enjoy time to explore the beautiful 'Queen of Scottish Lochs'.
Glasgow: During your orientation with your Travel Director, drive past the civic buildings and St. Mungo's Cathedral.
Scenic Drives: Scottish countryside is some of the most majestic in the world. Admire the beauty of the Grampian Mountains, the North West Highlands, Skye, the Valley of Glencoe and Loch Lomond.
YOUR JOURNEY
Whisky is a golden-hued contradiction.
It's somehow smoothly harsh, subtly bold, and roughly refined. It's undoubtedly an 'acquired taste'.
And on this tour, we give you time to understand all of whisky's nuanced characteristics in two of Scotland's outstanding whisky regions.
You begin by savouring the smoky and peaty whiskies of the Isle of Islay. You then return to Edinburgh to experience an exclusive whisky lunch. And for dessert, you head north for a chance to indulge in the light, sweet single malts of the Speyside region.
What's more is between all the delectable flavours you get chance to see Scotland's famous national parks, lochs, and ancient sites.
It's a tour that blends the beauty and tastes of Scotland.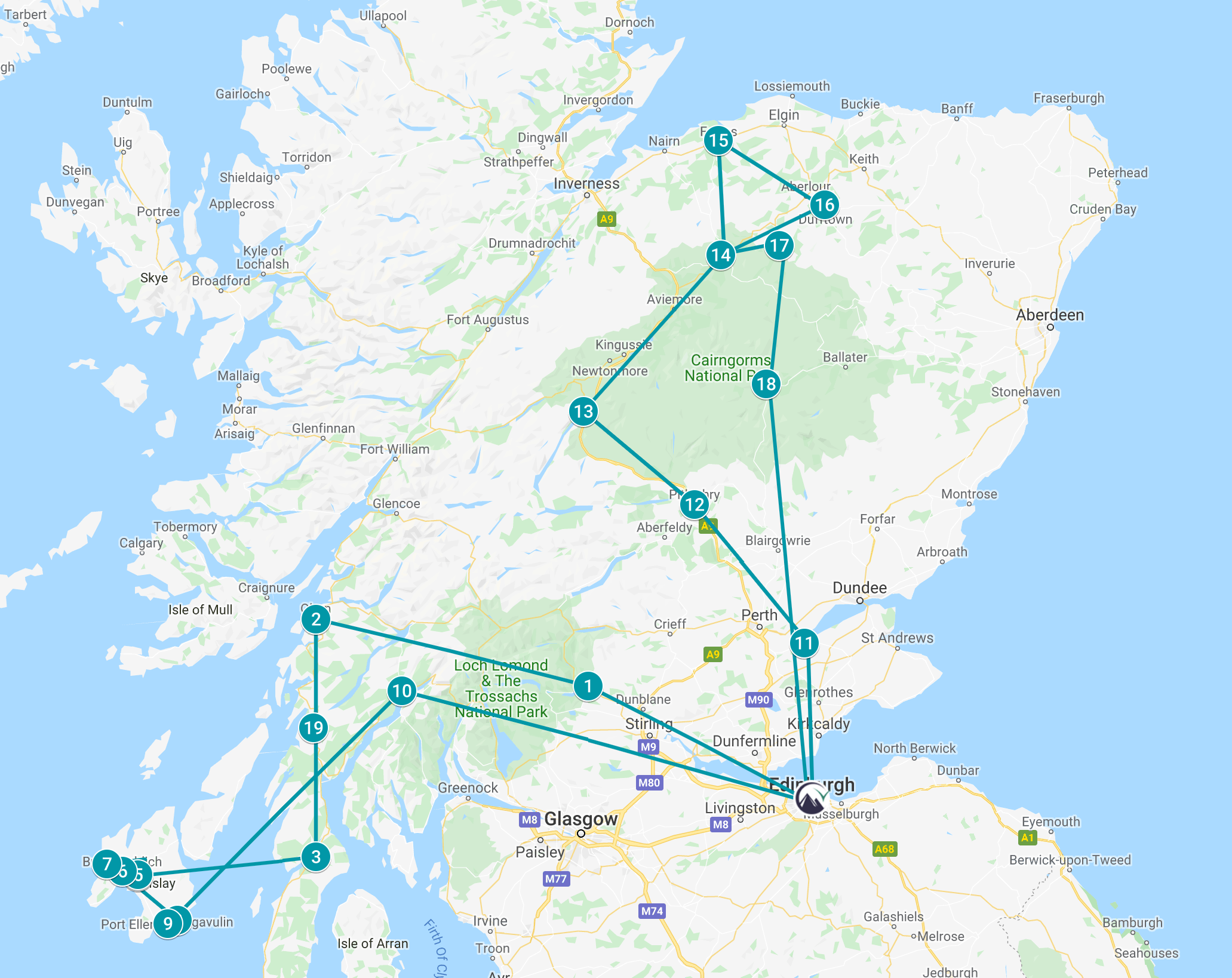 DAY 1
Leaving Edinburgh you head west to Stirling and into the Highlands with a short stop in the holiday town of Callander for refreshments.
After travelling through the mountainous part of the Loch Lomond National Park, you arrive in the busy harbour town of Oban. It was once the strategic heartland of great feuding clans. But today, Oban is famous for seafood sourced fresh off the boats. It also boasts its own distillery where you can sample whisky that's been perfected for 200 years. Here, you will have time to enjoy a dram and indulge in delicious local seafood for lunch.
You then depart Oban mid-afternoon for the journey to Kennacraig to catch the evening ferry to Islay. The sail is just over two hours and you should look out for wildlife such as dolphins, whales, and seabirds. On arrival on Islay it is a short drive to Bowmore for your three-night stay.
DAY 2
A full day exploring Islay. The itinerary today is a mixture of beautiful scenery, white sand beaches and the famous Islay whiskies – renowned for their strong peaty flavours and nurtured by the salty sea air.
In the morning you enjoy a tour of Bowmore, the oldest licenced distillery on the island.
Your driver-guide takes you to a nice spot for a lunch of local treats before you head to Bruichladdich distillery. This forward-thinking whisky hub offers a wide-range of single-malts that celebrate the provenance of Islay's ingredients.
Your next stop of the day is at Kilchoman Distillery. This is a proud and independent whisky-maker whose tastes are as bold as their environmental ethos. You have time for a tour and whisky tasting here, before a walk down the beautiful white beach that lies close by.
You head back to Bowmore where you can either stumble back to your room for the night or relax and explore the village.
DAY 3
Today you explore the southern side of the island, home to a few of the most famous whiskies in all of Scotland: Laphroaig, Lagavulin, and Ardbeg.
After you've made it out of bed and eaten your breakfast, you visit Ardbeg. You stay here for a tour, tasting, and lunch. The restaurant here is a beautiful place to relax and enjoy fine Scottish produce as you sip upon delightful drams.
You then visit Laphroaig. This 200-year-old whisky distiller is a favourite with the British royal family and bears the seal of the Prince of Wales to prove it.
Throughout the day, your driver-guide takes you to historical spots such as the ruins of Kildalton church and Dunyvaig Castle.
You return to Bowmore for your last evening of the trip.
DAY 4
This morning, you take the ferry back to the mainland and replace the intoxicating fumes of whisky with the replenishing fresh air of Scotland's West Highlands. You travel through coastal scenery to the beautiful village of Inveraray on the banks of Loch Fyne. The town is adorned with historic buildings, old boats, and a great whisky shop.
Your trip continues to Loch Lomond where you have a chance to admire Great Britain's largest body of water by surface area.
You arrive in Edinburgh in the early evening.
DAY 5
Today, is a free day to explore Edinburgh, the historic capital of Scotland. There are so many options available here – why not take one our city tour to familiarise yourself with the 'old' and 'new' towns of the city. No visit to Edinburgh would be complete without a visit to her medieval castle. Sitting on a volcanic plug there is no other city in Europe to offer a setting quite as unique as that of the castle rising high above the majestic Princes Street gardens, to the hustle and bustle of the city's first new town, and the main thoroughfare awash with designer shops.
A three-course lunch with two whisky tastings is booked for you at an excellent restaurant in the city.
And after that, what you do is up to you. You can venture deep under the city on a ghost tour, hike to the lofty heights of Arthur's Seat, or even relax in Edinburgh's gorgeous gardens.
Just ensure you relax and prepare for the next part of your adventure.
DAY 6
This morning, make your way to our departure point at Edinburgh Bus Station and check in at 09.00am for the next leg of your tour – a three-day Speyside Whisky adventure.
You head north through the Kingdom of Fife to Lindores Abbey Distillery. This modern Scottish distillery is built on the site of the first ever recorded distiller in the country.
After lunch in Pitlochry, you can sample the delights of Scotland's highest distillery at Dalwhinnie, near the source of the River Spey. Once you've warmed with this dram of "the gentle spirit", you continue through the Cairngorms National Park before reaching Grantown on Spey, your base for two nights.
DAY 7
A whole day exploring Scotland's most famous whisky region. After a scenic drive towards the coast, your first stop of the day is at the family-owned Benromach Distillery, where you can go on a personalised tour.
You travel back up the Spey River to Craigellachie for a visit to the Speyside Cooperage, where you see another aspect of the whisky making process.
After lunch here or in nearby Aberlour, you visit Glenfiddich Distillery, home to the world's most popular single malt. Tradition and passion have shaped the distinctive flavours of this Speyside favourite since the Grant family first started distilling in this area more than 130 years ago. From here, you travel back to Grantown on Spey.
DAY 8
In the morning you visit Glenlivet, which is both a distillery and a beautiful glen with serene walks and wonderful wildlife. You then enjoy the majesty of Royal Deeside. You pass by Balmoral Castle, and stop in the village of Braemar in the heart of the National Park.
From here the route south passes over Scotland's highest mountain pass, through Perthshire, and back to Edinburgh.
On this tour we have pre-booked a number of rooms in the beautiful Bowmore Distillery Cottages for the first three nights. These are self-catering cottages in the grounds of the distillery itself and offer a unique accommodation experience. The cottages have between three and six bedrooms and these are all en-suite but are NOT serviced during your stay.
The kitchen and lounge facilities are shared and self-service continental breakfast ingredients will be provided. Please note that due to the shared nature of the accommodation, individual bedrooms do not have their own lockable doors. Occasionally when these rooms are full we will use nearby B&Bs.
The accommodation in Edinburgh for nights four and five will be in 3* Motel One or a similar city centre hotel. (Breakfast included)
The accommodation in Grantown-on-Spey for nights six and seven will be in the 3* Garth Hotel or similar. (Breakfast included)
Fridays from April to October 2020