A wee country with a big personality, Scotland has bucket-loads of experiences to offer when it comes to holidays – so how will you know where to start?
We have chosen six itineraries to show you what is on offer. Whether you love scenery, history, outdoor activities, golfing or want to travel with the kids, there are endless options for all.
SUGGESTED SELF-DRIVE ITINERARIES 6-12 DAYS
SCOTLAND'S
CASTLE TRAIL
ROUTE: From Stonehaven to Craigievar
HIGHLIGHTS: History, landscapes, period features
AREAS COVERED: North
STONEHAVEN, BANCHORY, DRUMOAK
There are plenty of castles near Aberdeen, so you can easily base yourself in the city for your first day on the trail, which takes you to the impressive ruins of Dunnottar Castle, on to the fairytale Crathes Castle and finishes at Drum Castle, a fine Jacobean mansion house.
STOP 1 – DUNNOTTAR CASTLE
Start at Stonehaven, which can be reached by heading south from Aberdeen on the the A90/A92, and you'll be met by the well-preserved ruins of Dunnottar Castle, perched on a dramatic cliff some 160 ft above the North Sea. Fought over by Wallace and Cromwell, it was used as a set for Franco Zeffirelli's 1991 film Hamlet. If you're lucky, you may even see puffins or dolphins from the castle ramparts.
STOP 2 – CRATHES CASTLE
Heading north from Stonehaven on the A957 brings you to Crathes Castle, a few miles east of Banchory. Crathes is a classic fairytale castle standing in superb grounds with a range of woodland trails on offer to help you explore. Inside, spiral staircases lead to rooms famous for their Jacobean painted ceilings and resident ghost, the Green Lady. Outside, the gardens feature large yew hedges and a colourful double herbaceous border. The wider estate offers six separate walking trails to enjoy, as well as a Go Ape! treetop adventure park and children's adventure playground.
STOP 3 – DRUM CASTLE
Located 5 miles east of Crathes Castle, near Drumoak, Drum Castle combines a unique mix of a late 13th century tower, fine Jacobean mansion house and later Victorian additions. Superb furniture and paintings are on display while the estate's woodland trails and exceptional walled rose garden are well worth exploring.
SAUCHEN, TARVES, METHLICK
Day two on the trail takes you west and north of Aberdeen. Head to Castle Fraser and enjoy the splendid interiors of this grand castle before travelling north through the beautiful Grampian countryside to Tolquhon Castle and on to Haddo House, an elegant mansion house.
STOP 1 – CASTLE FRASER
About 16 miles west of Aberdeen, near Sauchen, stands Castle Fraser, one of the grandest castles of Mar. This magnificent building contains an evocative Great Hall, fine furniture and paintings. Enjoy the beautiful secluded walled garden, extensive woodland walks with fine views of the castle plus a children's adventure playground. Visit the tearoom and enjoy homebaked cakes in the ambience of the 19th century castle kitchen, before browsing the shop.
STOP 2 – TOLQUHON CASTLE
Tolquhon Castle at Tarves is one of the most picturesque of the castles in the Grampian countryside. Largely built in the late 16th century by the Forbes family, it houses the Tolquhon Tomb, one of the best examples of Scotland's so-called Jacobean 'Glorious Tombs'. Don't forget to look for the secret compartment in the laird's quarters where he hid his valuables.
STOP 3 – HADDO HOUSE
Haddo House near Methlick is an elegant mansion house boasting sumptuous Victorian interiors beneath a crisp Georgian exterior. Noted for fine furniture and paintings, including artworks by Sir Thomas Lawrence and James Giles, the historic home designed by William Adam also has a terraced garden. Explore the grounds and adjacent country park with its lakes, walks and monuments.
TURRIFF, DELGATY, FRASERBURGH
On the third day of your tour you'll travel from Aberdeen to Fraserburgh, located on the glittering Moray Firth coastline. Stops include Fyvie Castle, where you can see a treasure trove of fascinating objects, Delgatie Castle, which boasts magnificent painted ceilings, and Kinnaird Head Castle, home to the Museum of Scottish Lighthouses.
STOP 1 – FYVIE CASTLE
Begin your day at Fyvie Castle, Turriff, about 50 minutes north of Aberdeen. Fyvie is an outstanding example of Scottish baronial architecture. Begun as a simple castle in the 13th century, five powerful families each added significantly to it until it reached its present form. Inside, the magnificent sweeping staircase is the most dramatic feature while many treasures are on display including a superb collection of arms, armour and paintings. You can also stroll around the loch or visit the racquets court and bowling alley.
STOP 2 – DELGATIE CASTLE
Heading north on the A947, you encounter Delgatie Castle at Delgaty. The castle dates from the 11th century and is steeped in Scottish history yet still has a surprising lived-in atmosphere. It has some of the finest painted ceilings in Scotland and also boasts an award-winning restaurant and coffee shop.
STOP 3 – KINNAIRD HEAD CASTLE
Bring your third day to a close at dramatic Kinnaird Head Castle, which is now home to the fascinating Museum of Scottish Lighthouses. Built by the Frasers of Philorth in 1570 the castle was altered in 1787 to incorporate a Stevenson Lighthouse Tower, which is built through the heart of the castle. Take a tour of the museum to discover Kinnaird Head's fascinating transformation from castle, to lighthouse, to museum.Either spend your evening in Fraserburgh or travel west along the sparkling coastline to Banff, where your itinerary begins tomorrow.
BANFF, HUNTLY, ELGIN, DUFFTOWN
On the fourth day of your trip you'll visit a gorgeous historic mansion, Duff House, before enjoying a circular tour around three splendid ruins, Huntly Castle, Spynie Palace and Balvenie Castle.
STOP 1 – DUFF HOUSE
Your first stop of the day is Banff's Duff House, one of Scotland's architectural masterpieces. This Adam-designed historic house is a treasure house and cultural arts centre operated by a unique partnership between Historic Environment Scotland, the National Galleries of Scotland and Aberdeenshire Council. It also boasts extensive grounds and woodland walks by the River Deveron.
STOP 2 – HUNTLY CASTLE
Huntly Castle served as a baronial residence for the Gordons for five centuries and is remarkable for its impressive architectural features including fine heraldic sculpture and inscribed stone friezes.
STOP 3 – SPYNIE PALACE
Spynie Palace, a few miles outside Elgin, was the residence of the bishops of Moray for 500 years and its mighty tower house, David's Tower, was one of the largest in Scotland. It also had a bowling green and reputedly, according to one account, a tennis court. The beautiful surroundings and wildlife make the palace a wonderful place to visit.
STOP 4 – BALVENIE CASTLE
Almost 15 miles west of Huntly on the A920, Balvenie Castle is one of the oldest stone castles in Scotland. Originally the seat of the powerful Comyn Earls of Buchan, it later became the home of John Stewart, Earl of Atholl. The Stewarts changed the formidable medieval stronghold into a pleasing Renaissance residence.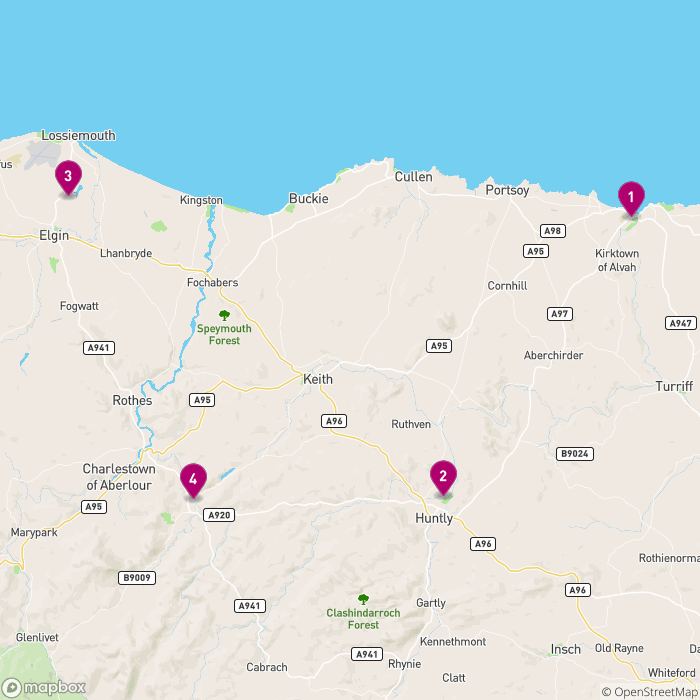 Day five features three very different castles. Leith Hall is packed with treasures for you to uncover, Kildrummy Castle offers great views of the wild lands of Strathdon and Corgarff Castle gives an insight into barrack life in the 1700s.
STOP 1 – LEITH HALL
7 miles south of Huntly, Leith Hall is a typical Scottish laird's residence brimming with family treasures amassed throughout the lifetimes of 10 generations of the Leith-Hay family. The house was used as an auxilary hospital during the First World War and an exhibition tells the story of military men and the part they played in battles through the decades. Enjoy a visit to the beautiful gardens with features including a Rock Garden which is being restored to its original 1900s design.
STOP 2 – KILDRUMMY CASTLE
Head south on the A97 to reach the great castle of Kildrummy. This stronghold of the Earls of Mar dominates the landscape around Strathdon and, although ruined, it retains many fine features including its hall and chapel.
STOP 3 – CORGARFF CASTLE
Set in a striking moorland setting 18 miles south west of Kildrummy, Corgarff Castle's tower house is surrounded by a distinctive star-shaped perimeter wall. View the reconstructed barrack rooms and feel the atmosphere of barrack life at the castle in 1750, when Government redcoats were stationed here.
BRAEMAR, BALLATER, CRAIGIEVAR
The final day of your tour takes you through the heart of Royal Deeside. Begin at Braemar Castle and see the interesting curios of this 17th century stronghold. Travel on to Balmoral Castle, the splendid Scottish holiday home of the Royal Family, and finish your day at fairytale Craigievar Castle, which is decorated with turrets and gargoyles.
STOP 1 – BRAEMAR CASTLE
Begin your day in the charming town of Braemar and visit Braemar Castle, the seat of Clan Farquharson. This 17th century stronghold was most recently furnished with many interesting curios in the 1950s by the flamboyant first wife of the Laird. It is best known for its unusual star-shaped outer wall. Take a guided tour of the castle with a local volunteer or with an audio guide.
STOP 2 – BALMORAL CASTLE
Head back east on the A93 to explore Royal Deeside, home to the famous Balmoral Castle, a firm favourite with the Royal Family. The estate has been in the family since 1848, after it was purchased by Queen Victoria. Enjoy a stroll around castle gardens, visit the ballroom and special exhibitions or relax with a drink in the coffee and gift shop.
STOP 3 – CRAIGIEVAR CASTLE
Some 45 minutes east of Ballater is one of Scotland's most iconic and best-loved castles, Craigievar. The riot of turrets, gargoyles and high corbelling work create the fairytale appearance which is said to have inspired Walt Disney. Visitors can also enjoy the fine grounds and waymarked trails surrounding it.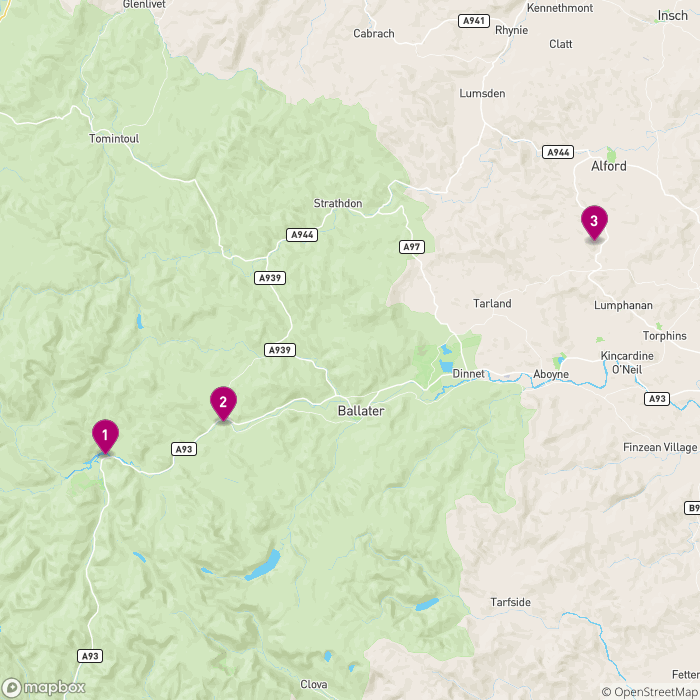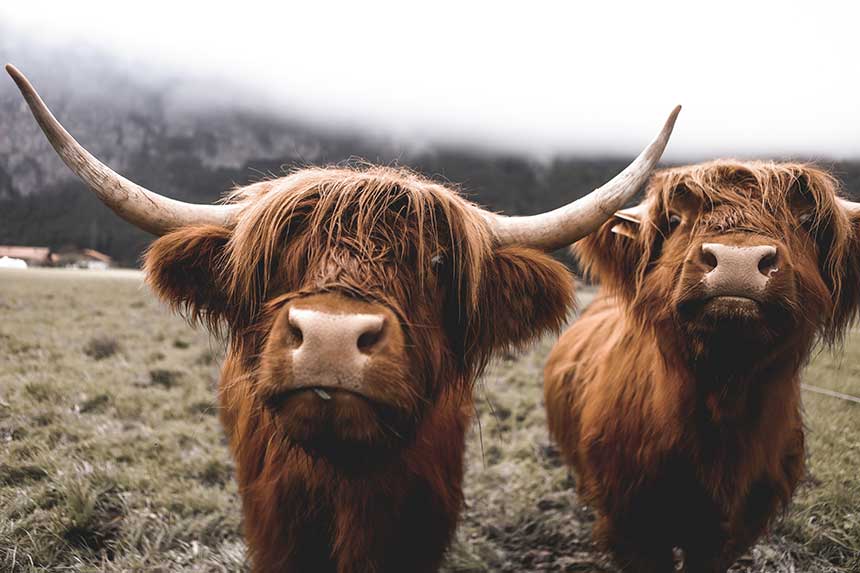 TOUR SCOTLAND WITH
OUTLANDER
ROUTE: Edinburgh – Stirling – Fife – Inverness –
Fort William – Glasgow – Dumfries & Galloway – Edinburgh
HIGHLIGHTS: Outlander filming locations, book locations and historic attractions
AREAS COVERED: East, North, West & South
DAY 1 – EXPLORING EDINBURGH
Spend your first day exploring the story of the Jacobites and Edinburgh's connections with Prince Charles Edward Stuart, better known as Bonnie Prince Charlie.This is your chance to learn more about the political landscape that Claire falls into when she travels back in time to 1743, two years before the 1745 Jacobite Rising led by Bonnie Prince Charlie. As you explore Edinburgh's Old Town keep your eyes peeled for three key Outlander filming locations.
PALACE OF HOLYROODHOUSE
Book location and Jacobite connectionLocated at the foot of the Royal Mile, the Palace of Holyroodhouse is an elegant royal residence with links to monarchs from throughout the centuries. Today it is the official Scottish residence of Her Majesty The Queen.In September 1745 Bonnie Prince Charlie established his court at Holyroodhouse for six weeks. This is portrayed in the Outlander novels when Claire and Jamie visit the Prince at the palace and beg him to abandon his hopeless cause.Jacobite connections to look out for in the palace:
The Great Gallery, where Bonnie Prince Charlie held a lavish ball.
The 'Darnley' bed which the Prince slept in during his stay. The bed was originally supplied for the Duke of Hamilton in 1682. You'll find it in The Queen's Bedchamber.
Portraits of Bonnie Prince Charlie and his brother, Henry Benedict Stuart, which were painted by Louis Gabriel Blanchet in 1739. You'll find these in the Royal Dining Room.
Open: all year
OLD TOWN
Book location and filming location – season 3Edinburgh's Old Town is part of a UNESCO World Heritage Site (together with the New Town on the north side of the city centre) and the buildings you'll see remain largely unchanged from how they would have looked centuries ago.The Old Town is home to three filming locations from Outlander. Look out for these places as you wander up the Royal Mile:
Bakehouse Close – this filming location is where Claire and Jamie are reunited after 20 years apart.
Tweeddale Court – this historic street becomes the 18th century market where Claire meets Fergus again.
Signet Library – the interior of this beautiful building doubles as the Governor's mansion in Jamaica.
If you're looking for a memorable souvenir pop into Hamilton & Young Jewellery Designers, also on the Royal Mile, to browse Celtic and Outlander inspired items.
NATIONAL MUSEUM OF SCOTLAND
Located just a short walk from Royal Mile, on Chamber's Street, the National Museum of Scotland is full of intriguing objects and brilliant stories.Head to Level 3 of the Scottish History and Archaeology galleries to discover the true story of the Jacobites. The Jacobite Challenge uses key objects to tell the story of the Jacobite cause and Bonnie Prince Charlie's time in Scotland. Jacobite objects in the national collection include the Prince's backsword, shield and clothes.Open: all year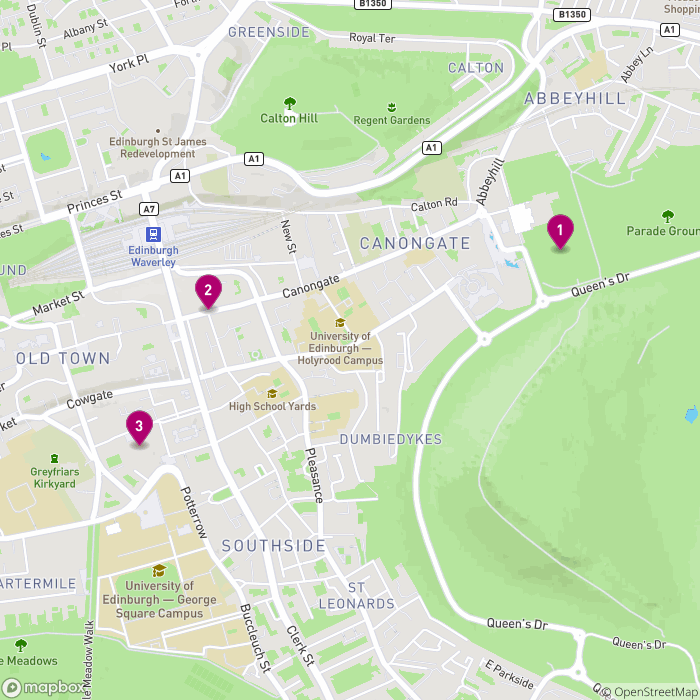 DAY 2 – A DAY OUT TO BO'NESS & LINLITHGOW
Take a ride on a vintage train and tour a beautiful ruined palace on this great day out from Edinburgh. Another lovely stop on your journey from Edinburgh (or on your way back) is South Queensferry, where you can see the iconic Forth Bridges up close
THE BO'NESS & KINNEIL RAILWAY
Filming location – season 1How does a leisurely ride in a comfy vintage train carriage sound to start your day? Bo'ness Station on the Bo'ness & Kinneil Railway stood in for the wartime London railway station where Claire and Frank said goodbye before taking up their wartime duties.Watch the scenery glide past from the steam or diesel-hauled train and explore the Museum of Scottish Railways, Scotland's largest railway museum, which is next to Bo'ness Station.Open: seasonally
LINLITHGOW PALACE
Jacobite connection and filming location – season 1Explore the nooks and towers of this beautiful ruined palace and take a refreshing walk around Linlithgow Loch.In 1745 Bonnie Prince Charlie visited the palace on his journey south. Its elaborate courtyard fountain is said to have flowed with red wine to mark the occasion!In Outlander the majestic entrance and corridors feature as Wentworth Prison where Jamie was imprisoned.Open: all yearTop tip: Linlithgow has a direct rail connection to Edinburgh which takes just 20 minutes.
DAY 3 – EXPLORING ATTRACTIONS EN ROUTE TO STIRLING
Travel from Edinburgh or Linlithgow to Stirling, stopping at two beautiful stately homes and a fortress castle as you go.
HOPETOUN HOUSE
Filming location – season 1, 2 & 3Dating from the 17th century, Hopetoun House near South Queensferry is a beautiful stately home surrounded by a vast, 6,500 acre estate.Various parts of the house and grounds have played roles in Outlander:
The Duke of Sandringham's stately home (S1)
The spare room in Jamie and Claire's Paris apartment (S2)
The Hawkins Estate (S2)
The backdrop for Parisian streets (S2)
The stables at Helwater and the exterior of Ellesmere (S3)
Another key filming location on the Hopetoun Estate is Midhope Castle, which features as the exterior of Jamie's beloved Lallybroch.
While no filming took place inside the castle (it's derelict inside) the exterior is instantly recognisable. Please note, Midhope is located on a private part of the Hopetoun Estate and access is restricted. If you want to visit, you need to purchase a vehicle permit from the nearby Hopetoun Farm Shop.
BLACKNESS CASTLE
Filming location – season 1 & 2Stop for a visit at Blackness Castle, a 15th century fortress on the banks of the Firth of Forth.In Outlander the castle features as Black Jack Randall's headquarters in Fort William. Its internal courtyard is shown in the heart-wrenching scenes from Jamie's incarceration.Open: all year
CALLENDAR HOUSE
Filming location – season 2Stop for an afternoon visit at another grand stately home – Callendar House in Falkirk. Located within the expansive greenery of Callendar Park, the house dates from the 14th century and has hosted many famous historical figures, including Bonnie Prince Charlie.In Outlander the house's authentic Georgian kitchen appeared as part of Bellhurst Manor, the home of the Duke of Sandringham.Open: all year
DAY 4 – A DAY TRIP FROM STIRLING
Hop in the car and enjoy a day out from Stirling. Today is the day you'll visit Doune Castle – otherwise known as Castle Leoch – as well as two other great attractions.
DRUMMOND CASTLE GARDENS
Filming location – season 2The beautiful Drummond Castle Gardens is one of Europe's finest formal gardens. In Outlander the gardens are shown as the ornate park and orchard of the Palace of Versailles in France.During your visit look out for the two beautiful copper beech trees which were planted by Queen Victoria in 1842.Open: seasonallyNote: Drummond Castle itself isn't open to the public.
DEANSTON DISTILLERY
Filming location – season 2Formerly a working cotton mill, Deanston Distillery is now famous for the glorious whisky it produces. Take a tour to find out how whisky is made.In Outlander the historic buildings stand in for Jamie's cousin's wine warehouse on the docks of Le Havre.Open: all year
DOUNE CASTLE
Jacobite connection and filming location – season 1One of the major stops on your itinerary – a visit to Doune Castle. This striking ruin doubles as the exterior of Castle Leoch, home to Colum MacKenzie and his clan in the 18th century.Nowadays Doune Castle might be most famous as an Outlander filming location, but did you know that the castle has real life Jacobite connections too? The Jacobites took the castle from government troops in 1745 and, following the 1746 Battle of Falkirk, government prisoners were held there.Open: all year
DAY 5 – HISTORIC TOWNS IN FIFE
Wake up in Stirling before travelling over the Firth of Forth into Fife. Today you'll visit two beautiful historic towns – Culross and Falkland.
ROYAL BURGH OF CULROSS
Filming location – season 1 & 2With its cobbled streets and rows of historic cottages, your visit to Culross will feel a little like stepping back in time to the 17th and 18th centuries.In Outlander the Mercat Cross area in the centre of the town becomes the fictional village of Cranesmuir, where Geillis lives, while the garden behind Culross Palace stands in for Claire's herb garden at Castle Leoch.Open: town – all year, Culross Palace – seasonal
FALKLAND
Filming location – season 1 & 2Explore the historic streets of this picturesque town and visit grand Falkland Palace, which was built in the 1500s and became a favourite country residence for many kings and queens.In Outlander, Falkland is one of the first places shown on screen – the town substitutes for 1940s Inverness where Claire and Frank go on their second honeymoon.Around town you can visit:
The Covenanter Hotel, which stands in for the cosy Mrs Baird's Guesthouse.
The Bruce Fountain, where the ghost of Jamie looks up at Claire's room.
Fayre Earth Gift Shop, which doubles as Farrell's Hardware and Furniture Store.
Campbell's Coffee House and Eatery, which becomes Campbell's Coffee Shop in the show.
Open: town – all year, Falkland Palace – seasonal.
DAY 6 – DISCOVERING HIGHLAND HISTORY
Watch the landscape changing from pastoral lowland scenery to rugged Highland peaks as you travel from Falkland to Inverness, stopping en route to visit a replica 1700s Highland settlement.
HIGHLAND FOLK MUSEUM
Filming location – season 1See what life was like for the people of the Highlands from the 1700s up until the 1960s at the Highland Folk Museum in Newtonmore.In Outlander the museum's replica 18th century Highland crofts are shown when Claire joins Dougal and his followers on their task to collect rent from the clan's tenants.Open: seasonal
CULLODEN BATTLEFIELD
Book location and Jacobite connectionStand on the rugged moorland where the 1746 Battle of Culloden took place and feel the atmosphere of the site where one of the most harrowing battles in British history took place.Culloden Moor was the site of the Jacobites' final stand in the Risings, when Bonnie Prince Charlie and his followers, including clans such as the Frasers and MacKenzies, were defeated by the Duke of Cumberland's government troops.In the Outlander novels, the moor is where Jamie fights in the 1746 Battle of Culloden. Pop into the Culloden Battlefield Visitor Centre to discover more about the battle.Open: battlefield – all year, Culloden Battlefield Visitor Centre – seasonal
CLAVA CAIRNS
Located just a few minutes' drive from Culloden Battlefield, the Clava Cairns are said to have provided an inspiration for Outlander's mysterious Craigh na Dun – the standing stones which sweep Claire back in time.This sacred site was an important Bronze Age burial place. Its grave sites, cairns and standing stones date from around 4,000 years ago.Make sure and take lots of pictures, but please don't climb on any of the monuments.Open: all year
DAY 7 – EXPLORING INVERNESS AND LOCH NESS
Wake up bright and early to get the most of your day in Inverness. Spend the morning exploring the city before heading to Loch Ness and Urquhart Castle.
Book locationExplore the beautiful Highland city that Claire and Frank choose for their second honeymoon in the Outlander novels.Top places to visit in Inverness include:
Inverness Museum & Art Gallery – discover the intriguing objects, including Jacobite memorabilia.
Victorian Market – browse the shops under the market's historic cast iron and wood domed roof.
Inverness Botanic Gardens – see beautiful blooms and exotic cactuses.
Leakey's Bookshop – search through shelves filled with great books.
River Ness – stroll along the river banks and cross the suspension bridge to the Ness Islands.
Book location
A trip to Inverness isn't complete without visiting Loch Ness. This huge expanse of water is an immensely impressive sight – the loch holds more water than all the lakes in England and Wales combined.
There are several boat tour companies that will take you out for a cruise on this iconic stretch of water.
In the Outlander novels Claire and Frank take a cruise on the water and in her 18th century life Claire meets the Loch Ness Monster here (referred to as a water horse in the novel).
URQUHART CASTLE
Jacobite connectionOn the north west shore of Loch Ness you'll find the beautiful ruins of Urquhart Castle. The site has been a significant place since around AD 580, when St Columba is said to have visited. There has been evidence of a castle on the site since the 1200s.It was the first Jacobite Rising of 1689 that marked the end for Urquhart Castle as a working castle and garrison. In 1692, following the end of the first rising, government forces blew up the castle to prevent it falling under Jacobite control in the future. Urquhart Castle has lain in ruins ever since.Take a tour to learn about the castle's history and explore the ruins.Open: all year
DAY 8 – DRIVING THE GREAT GLEN TO FORT WILLIAM
Admire the views of native Caledonian pine forests, glistening lochs and open moorlands as you drive through the Great Glen on your way from Inverness to Glenfinnan. This is the glen that Claire and Jamie rode through after their wedding in the Outlander novels.
GLENFINNAN MONUMENT
Jacobite connectionStretch your legs and breathe in fresh Highland air as you visit the Glenfinnan Monument on the banks of Loch Shiel. Bonnie Prince Charlie raised the Jacobite flag here in August 1745 (beginning the final Jacobite Rising), after arriving on the mainland from the Outer Hebrides.Climb the monument for views out across Loch Shiel and pop into the visitor centre to learn more about the 1745 Rising.
WEST HIGHLAND MUSEUM
Jacobite connectionExplore the history of the west Highlands and see archaeological finds and treasures from throughout the area. The museum also has a great Jacobite exhibition with plenty of lesser-known stories to uncover.Some of the fascinating items you can see include:
Bonnie Prince Charlie's death mask
A fine silk waistcoat belonging to the Prince
A fan created for a grand ball at the Palace of Holyroodhouse
A secret portrait of Bonnie Prince Charlie
Open: all year
NEVIS RANGE MOUNTAIN GONDOLA
Get a better view of Britain's highest peak, Ben Nevis, on a gentle ride in a suspended mountain gondola up the side of Aonach Mor, one of Ben Nevis' lofty neighbours.Soak up the far reaching views towards Ben Nevis, Fort William, the Great Glen and the surrounding Highlands and hop off at the top station to visit the Snowgoose Restaurant & Bar, where you can have a hot drink, a tasty snack or a meal.Open: all year except for an annual maintenance period in winter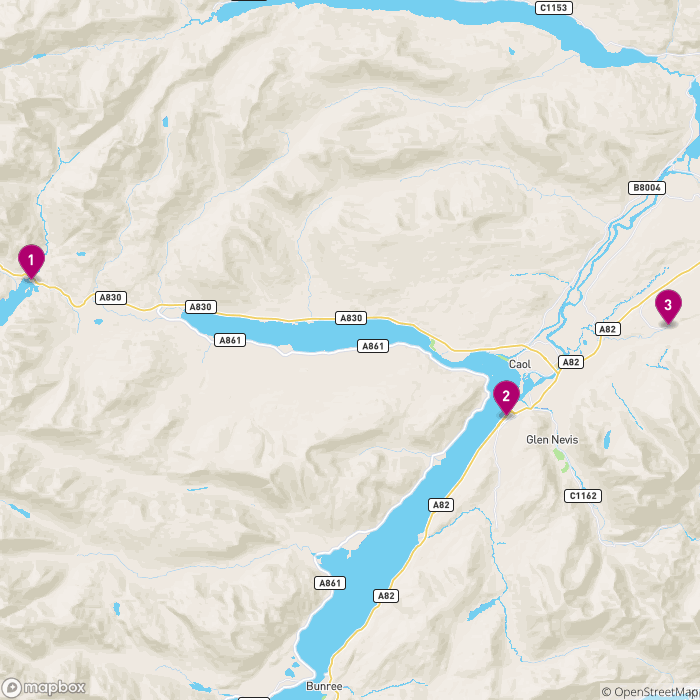 Open: site – all year, Monument & Visitor Centre – seasonal
Tip – While you're here, make sure to snap some pictures of the nearby Glenfinnan Viaduct – it's a famous filming location from the Harry Potter movies.
DAY 9 – EXPLORING GLEN COE EN ROUTE TO GLASGOW
Set off from Fort William on your journey south to Glasgow. Your route will take you through one of the most beautiful parts of Scotland – through the deep valley of Glen Coe.
GLEN COE
Filming location – season 1Featured in Outlander's opening credits, visiting world-famous Glen Coe will be a highlight memory from your trip. Driving through this deep-carved glen feels like you're entering in a secret part of Scotland.Pull into one of the parking places to absorb the atmosphere created by the towering peaks around you before popping into the Glen Coe Visitor Centre. You can grab a bite to eat here before browsing the exhibition.Open: glen – all year, Glen Coe Visitor Centre – all year except a few weeks in December/JanuaryTip – You don't need scorching sunshine to get the most from this beautiful place. In many ways Glen Coe is even more striking on an overcast, brooding day, when mist is sweeping down the glen and cloud is lying low on the hills.
GLASGOW CATHEDRAL
Filming location – season 2Built in the 1100s, Glasgow Cathedral is one of the oldest buildings in the city and one of the most intact medieval cathedrals on the Scottish mainland.Visit to see its beautiful Gothic architecture and step down into the historic crypt, which was built in the mid-1200s to house the tomb of St Kentigern.In Outlander the cathedral's crypt doubles as L'Hopital Des Anges in Paris, where Claire volunteers to work.Open: all year
GEORGE SQUARE
Filming location – season 1In the evening, head to George Square to see the historic area that becomes the 1940s spot where Frank spontaneously proposes to Claire.Enjoy a stroll through the square as you soak up the ornate architecture of the surrounding buildings and study the square's many statues and monuments. There are plenty of great places to go for dinner in this area, or in the nearby Merchant City too.
DAY 10 – EXPLORING GLASGOW
This is your chance to soak up the vibrant atmosphere of Glasgow – Scotland's largest city. There are plenty of top attractions to visit today, including Pollok House, Kelvingrove Park and the Hunterian Museum.
POLLOK COUNTRY PARK
Filming location – season 1 & 2Visit Pollok House in the south of Glasgow to see the historic building's grand rooms and vast servants' quarters. The main part of the house was built in 1752 – during Jamie's time in Outlander.In the TV series Pollok Country Park, which surrounds Pollok House, features in a few different scenes. It doubles as the grounds surrounding Castle Leoch and also stands in for French countryside as the characters travel between Le Havre and Paris.Open: all year
KELVINGROVE PARK & THE UNIVERSITY OF GLASGOW
Filming location – season 3Stroll through the lush grounds of Kelvingrove park, which becomes the Boston park where Claire enjoys walking.Afterwards pop over the road to explore the historic University of Glasgow buildings. In Outlander the university becomes Harvard University, where Frank teaches.Open: all year
HUNTERIAN MUSEUM
Located in the historic University of Glasgow buildings, the Hunterian Museum has lots of fascinating exhibits and stories for you to uncover, including medicine, zoology and anatomy.Make sure to visit Mackintosh House too, to see the home that Charles Rennie Mackintosh designed with his wife Margaret Macdonald Mackintosh.Open: all year
ASHTON LANE
In the evening head to the city's West End for dinner and drinks. Look out for Ashton Lane with its twinkling fairy lights, quirky places to eat and independent cinema.
DAY 11 – EXPLORING AYRSHIRE & GALLOWAY
Drive south west from the vibrant city of Glasgow to explore Ayrshire and the lush landscapes of Dumfries & Galloway, Sam Heughan's homeland.
DEAN CASTLE COUNTRY PARK
Filming location – season 2Surrounded by mature woodland, 14th century Dean Castle in Kilmarnock appears in series two of Outlander as Beaufort Castle, near Beauly in the Highlands. In the show Claire and Jamie visit Lord Lovat at the castle to try and persuade him to send his men to aid Charles Stuart.Although Dean Castle is currently closed for restoration, the beautiful country park – with its walking routes, Urban Farm, visitor centre and café – is the ideal place to stretch your legs and explore.If you have time you can also visit the nearby Dick Institute Museum and Gallery – also in Kilmarnock – to view the collections from Dean Castle which are on display at the museum during the castle's refurbishment.
DUNURE HARBOUR
Filming location – season 3Drive along the Ayrshire coast until you reach the pretty harbour village of Dunure.In Outlander, Dunure doubles as Ayr Harbour, where Claire and Jamie leave Scotland in pursuit of Young Ian. Another great stopping point is Dunure Castle (less than a mile away) which features as Silkie Island in the show.
DRUMLANRIG CASTLE
Jacobite connection and filming location – season 2Take a tour of this beautiful 17th century castle, near Thornhill, and explore period rooms filled with artwork, French furniture and antiques. Afterwards take a stroll in the castle's 90,000 acre estate which includes championship mountain biking trails.In Outlander, the exterior, living rooms and bedrooms of Drumlanrig Castle became Bellhurst Manor, including a bedroom that was once slept in by Bonnie Prince Charlie, as he made his way north to Culloden.Open: seasonal
GALLOWAY FOREST PARK
The lush Galloway Forest Park is close to where Sam Heughan (Jamie from Outlander) grew up in Dumfries & Galloway. Head to Clatteringshaws Visitor Centre to take a refreshing stroll along the shore of Clatteringshaws Loch.Close by, you can see wild creatures in natural surroundings at the Red Deer Range and the Wild Goat Park.Open: Clatteringshaws Visitor Centre, the Red Deer Range and the Wild Goat Park – seasonal
DAY 12 – HEADING BACK TO EDINBURGH
Your final day takes you from Dumfries & Galloway back to Edinburgh, stopping at some great historic attractions en route.
TRAQUAIR HOUSE
Jacobite connectionExplore Scotland's oldest inhabited house, a former royal hunting lodge dating from 1107 which remains a family home to this day.Wander round the beautiful rooms, tour Traquair House Brewery and navigate your way around the maze.While you're there find out more about Traquair House's Jacobite connections – in the 1700s the earls of Traquair supported the Jacobite cause. Bonnie Prince Charlie even visited the house in 1745.Open: seasonal
ROBERT SMAIL'S PRINTING WORKS
Pop into this historic print works to see how items such as stationary and newspapers would have been printed before the time of computers.Although the printing works date from 1866 (after Jamie's time in Outlander) this quirky historic attraction will give you a feel for what life may have been like for Jamie in his print shop on the Royal Mile in the Outlander novels.Open: all year
CRAIGMILLAR CASTLE
Filming location – season 3Located on the south side of Edinburgh, Craigmillar Castle has plenty of interesting rooms and hidden nooks for you to explore. The oldest part of this ruined castle – the tower house – dates from the 1300s.In Outlander Craigmillar becomes Ardsmuir Prison, where Jamie is incarcerated.Open: all year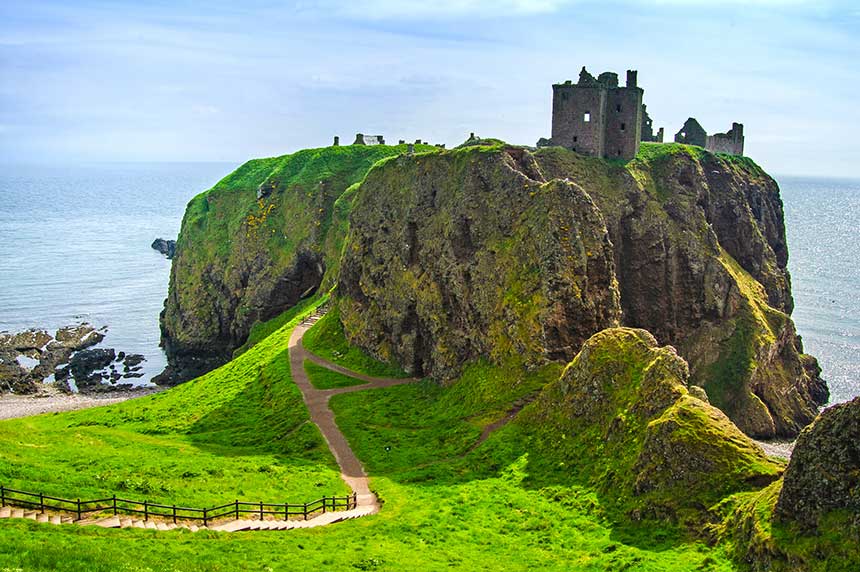 SCOTTISH FILM &
TV LOCATIONS
ROUTE: From Machars Peninsula to Callendar
HIGHLIGHTS: Film locations, landscapes
AREAS COVERED: All of Scotland (South, West, East and North)
MACHARS PENINSULA, PORT LOGAN & STRANRAER
Your first day begins in Dumfries & Galloway for a whole range of settings associated with the cult film The Wicker Man.
STOP 1 – ST NINIAN'S CAVE
The fearsome wicker figure burned in the sacrifice scene at the end of The Wicker Man was set up at Burrows Head in the Machars. Explore the otherworldly St Ninian's Cave nearby, where Sergeant Howie (Edward Woodward) tracks Rowan.
STOP 2 – LOGAN BOTANIC GARDEN
Head to the gorgeous Logan Botanic Garden and admire the impressive tropical plants which thrive in the warm atmosphere created by the Gulf Stream. The beautiful garden filled in as Lord Summerisle's lush garden in the movie.
STOP 3 – CASTLE KENNEDY
Travel north and west, via the Galloway Forest Park, to Castle Kennedy, which featured in the stone circle and May Day procession scenes. The beautiful gardens which surround this impressive ruined castle are the perfect place for a walk in the countryside or you could stop for a tasty snack in the tearoom.
The second day of your itinerary begins at your final film location from The Wicker Man, Culzean Castle, before you travel north to explore the bustling city of Glasgow, where you can see settings from World War Z, The Angel's Share and Cloud Atlas.
STOP 1 – CULZEAN CASTLE
Travel to Maybole, where you'll recognise the exterior of Culzean Castle as the grand mansion of Lord Summerisle (Christopher Lee) from The Wicker Man. Perched on the side of a dramatic cliff, this Robert Adam designed masterpiece is packed with treasures for you to discover as well as peaceful walks in the stunning grounds.
STOP 2 – GLASGOW
Spend the rest of your day exploring Glasgow, where in 2011 the city centre was transformed into the streets of Philadelphia for the zombie apocalypse movie World War Z, starring Brad Pitt. The city's renowned architecture has also been the backdrop for the critically acclaimed The Angel's Share, and Cloud Atlas which stars Tom Hanks and Halle Berry.
On your second day head east to Roslin and explore the magnificent Rosslyn Chapel, star of the Da Vinci Code. Next head into Edinburgh and see which film locations you recognise – check out this Edinburgh film map for inspiration.
STOP 1 – ROSSLYN CHAPEL
Head to Rosslyn Chapel and admire the extraordinary architecture and medieval stone carvings which provided the backdrop to Dan Brown's the Da Vinci Code book and the movie adaption. Walk in the footsteps of Robert Langdon (Tom Hanks) as you explore this stunning chapel.
STOP 2 – EDINBURGH
Continue to Edinburgh. Scotland's capital city has featured in many films and TV productions over the years. The Edinburgh film map takes you to the places where your favourite movie moments happened. In the city centre you can admire some of the buildings which featured in iconic shots from One Day, the romantic comedy based on the novel by David Nicholls and starring Anne Hathaway.The gritty portrayal of Leith in Trainspotting is already history. The old seaport has had a far ranging facelift and now offers a fine range of eating and drinking venues as well as quality shopping. Why not book a Trainspotting tour of Leith to see some of the locations featured in this classic for yourself?
Your third day on the itinerary takes you through the beautiful landscapes of Scotland's east coast. Drive along the coastal route to St Andrews, featured in Chariots of Fire, before heading north to Royal Deeside in Aberdeenshire where Balmoral Estate, featured in The Queen, awaits you.
STOP 1 – WEST SANDS BEACH
From Edinburgh, cross the Forth Bridge and follow signs east for St Andrews. This handsome east coast town's West Sands beach features in the opening sequences of Chariots of Fire, with its distinctive Vangelis soundtrack. Golf fans will recognise St Andrews' famous Royal and Ancient Golf Clubhouse in the background, and real film buffs will observe the camouflage netting covering parked cars in one shot here!
STOP 2 – BALMORAL ESTATE
Continue north via the Tay Bridge and Dundee and pick up the A93 to drive through the Spittal of Glenshee for Balmoral Castle. This beautiful attraction has been the Highland home of the Royal Family since 1852 and featured in the Oscar-winning film The Queen, a 2006 portrayal of HM The Queen, Elizabeth II.
STONEHAVEN, PENNAN & INVERNESS
Day five on the itinerary takes you to Dunnottar Castle, which is said to have inspired Merida's family home in Brave, the quaint town of Pennan, a setting in Local Hero, and Loch Ness, featured in The Water Horse – Legend of the Deep.
STOP 1 – DUNNOTTAR CASTLE
Head to Dunnottar Castle, said to be the inspiration for the DunBroch family home in DisneyoPixar's Brave. Explore this fascinating ruined castle, perched dramatically on cliffs above the North Sea.
STOP 2 – PENNAN
Follow the Aberdeenshire coastline north to another Scottish film icon. Clustered below the cliffs and with Scotland's most famous phonebox, Pennan was one half of the fictional village of Ferness in Local Hero.
STOP 3 – LOCH NESS
From Pennan, head westwards along the A98 towards Inverness and to the top of the Great Glen and Loch Ness, the setting of the film The Water Horse – Legend of the Deep, an enchanting story about its most mysterious inhabitant, the Loch Ness Monster. Ardkinglas House in Argyll was used as the main exterior location in the film.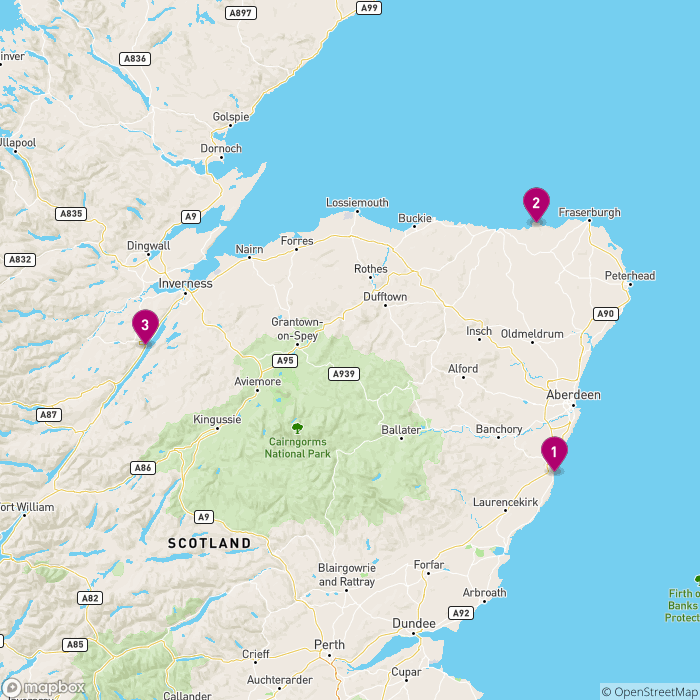 FORT WILLIAM & GLENFINNAN
Spend a day exploring Fort William, the Outdoor Capital of the UK and one of the most frequently used film locations in Scotland. Round off your stay in the area with a train ride along the famous Glenfinnan Viaduct, which features in several of the Harry Potter movies.
STOP 1 – FORT WILLIAM
Follow Loch Ness down through the Great Glen to Fort William and Glen Nevis, in the shadow of Ben Nevis. With some of Scotland's most dramatic scenery available, filmmakers have used this location repeatedly, including scenes from films such as Braveheart, Rob Roy, Highlander and Harry Potter and the Goblet of Fire.
STOP 2 – GLENFINNAN VIADUCT
Other locations nearby include the famous Glenfinnan Viaduct, which featured in Harry Potter and the Chamber of Secrets. The spectacular train chase scene features the Hogwarts Express and a flying Ford Anglia car, crossing the Glenfinnan Viaduct on the Glenfinnan estate in the west Highlands. Experience your own magical train journey by taking a trip on the Jacobite Steam Train between Fort William and Mallaig.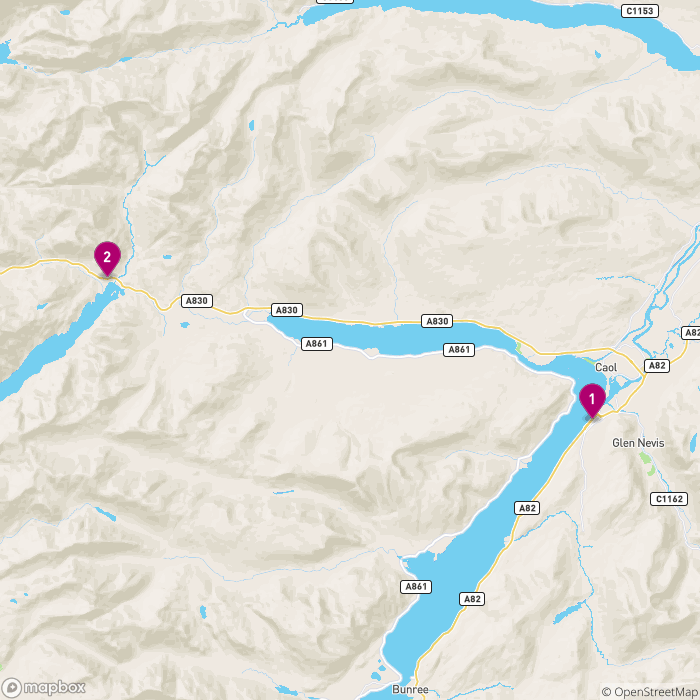 Your final day will take you through some of Scotland's most impressive landscapes. Drive along the same route James Bond followed in Skyfall at Glencoe, stop at the Falls of Dochart (another Bond site) before travelling on to Doune to explore Doune Castle, which boasts connections to the Outlander TV series and Monty Python.
STOP 1 – GLENCOE
From Fort William head along the A82 through Glencoe, where scenes from Skyfall were filmed in the shadow of Buachaille Etive Mor.
STOP 2 – FALLS OF DOCHART
Continue east for Killin and the picturesque Falls of Dochart, the backdrop to the 1967 Casino Royale and the 1959 remake of The 39 Steps.
STOP 3 – DOUNE CASTLE
Turn south via Callander to reach Doune Castle, a key location in the hit TV series Outlander where it stands in for the fictional Castle Leoch, home to Colum MacKenzie and his clan in the 18th century episodes. The castle is also firmly associated with Monty Python and the Holy Grail and is still very much a place of 'pilgrimage' for Monty Python fans.
ICONIC SIGHTSEEING
IN THE WEST OF SCOTLAND
ROUTE: Glasgow, Loch Lomond, Oban, Isle of Mull,
Glencoe & Isle of Skye
HIGHLIGHTS: Tobermory, Eilean Donan Castle, The Cuillin, Talisker Distillery, Glenfinnan Viaduct, & Cameron House on Loch Lomond
AREAS COVERED: Glasgow, Loch Lomond & The Trossachs National Park, Argyll & The Isles & Highlands
Begin with a day discovering Glasgow's culture. Scotland's biggest city is renowned for its style, energy and huge personality, so it's a perfect place to start. 
GLASGOW CITY SIGHTSEEING TOUR
See all the city's best bits from the top seat of a double decker bus! With multi-lingual guided tours, a great view of the city and plenty of fascinating facts, this is a fabulous way to get acquainted with a brand new city.
THE LIGHTHOUSE
Right in the heart of Glasgow, The Lighthouse is Scotland's Centre for Design and Architecture. Housed in the former Glasgow Herald building, it was the first public commission of Glasgow's own Charles Rennie Mackintosh. Admire the panoramic views of the city from the top floor, and check out the artworks and exhibitions on display.
KELVINGROVE ART GALLERY & MUSEUM
Glasgow's trendy West End is home to Kelvingrove, a free museum packed with over 8,000 intriguing objects and artefacts. The museum houses an extraordinary collection of art, from the Dutch Old Masters and the French Impressionists, to perhaps its most famous piece, Christ of St John of the Cross by Salvador Dali.
SHOP 'TIL YOU DROP
Afterwards, take a wander along Byres Road, a pleasant, bustling street lined with a variety of independent shops. You'll find some great places to eat and drink in this part of town – be sure to try Ashton Lane for a few local favourite spots. Glasgow also has superb accommodation options, so you can rest and recharge your batteries after a busy day in the city.
Leave the city in your rear view mirror and drive towards the 'bonnie banks' of Loch Lomond. Here, you can start to unwind with a spot of pampering and a big dose of fresh air. You can rent a car in Glasgow from several locations, and the drive to Loch Lomond should take about an hour and a half. 
CAMERON HOUSE ON LOCH LOMOND
Indulge with a lengthy luncheon at this magnificent baronial mansion, where you'll find a selection of restaurants and brasseries, including the Michelin-star Martin Wishart at Loch Lomond. Golfers can tee off at the 18-hole championship course, and there's a tranquil spa, complete with a rooftop infinity pool.
WALKS IN LOCH LOMOND
Loch Lomond & The Trossachs National Park is a hiker's paradise, with stunning vistas in every direction. Lace up your boots and explore the Luss Heritage Trail, a lovely short walk around a quaint loch-side village. Or, why not spend another day here and challenge yourself to something a little more strenuous? The most southerly Munro Ben Lomond, Ben A'an, and The Cobbler are all rewarding climbs nearby.  
AN CEANN MÒR, INVERUGLUS
Take in the glorious views of Loch Lomond from the top of this 8 m high, pyramid-shaped viewing platform on the west side of the loch, made entirely from sustainable timber. The perfect spot for a selfie!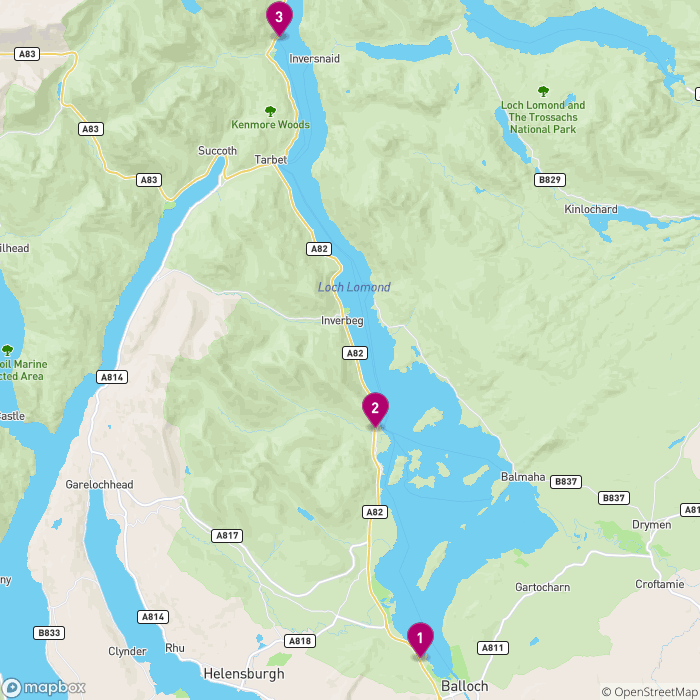 Dragging yourselves away from Loch Lomond might be tricky, but there are islands, boat trips and many more adventures ahead! Upon arrival in Oban, take the Calmac ferry across to the Isle of Mull and explore this island for the day, before heading back to the harbour town for a stroll and some of Scotland's freshest, quality seafood.
TOBERMORY
Embark on an exhilarating ferry crossing from Oban to Craignure, and keep your eyes peeled for Duart Castle in the distance, or even a few seals bobbing out at sea. When you arrive, catch the bus and go north to the isle's 'capital' of Tobermory, and explore this wee port town with its distinctive row of pastel-coloured houses. There is a distillery, a local museum and several pubs here too.
MCCAIG'S TOWER
Step off the ferry and stretch your legs by taking the short climb from the town centre up to McCaig's Tower to admire the views across the bay and towards the isles. 
SEAFOOD NIGHT IN OBAN
If you haven't yet experienced this region's top quality seafood, what are you waiting for? Oban is Scotland's Seafood Capital and is famous for its flavoursome feasts. Along the harbour, fresh catch is hauled straight from the shores and onto your dinner plate. Enjoy!
Now it's time to visit one of the most striking and other-worldly places in Scotland. The A82 road through Glen Coe takes you through a deep valley carved out by glaciers. The sheer size of the valley ridges will make you feel tiny in comparison.
GLENCOE VISITOR CENTRE
The glen has lived through a turbulent and dramatic history, leaving an atmospheric imprint on the landscape. Stop for a cup of tea at the educational visitor centre, before going on a short walk to the infamous location of the Massacre of Glencoe in 1692.
CLACHAIG INN
With towering peaks looming out of every window, this cosy inn has made room for weary travellers for over 300 years. It's the perfect place to stop and refuel after a day in the outdoors. Get to know the locals and try some of the local ales and beers, or settle down for a hearty pub dinner. 
This exciting section of the trip will take you past some spellbinding Highland landscapes before crossing over to the Isle of Skye. Stop the car to take in the views at Glen Sheil, before taking the A87 across the Skye Bridge at Kyle of Lochalsh to discover this famous isle.
BROADFORD
Lying in the shadow of the imposing Cuillins, this will be the first town you come to after crossing the bridge. Stretch your legs and stock up on some picnic supplies here – you'll need some fuel for the rest of the day.
THE CUILLIN
Gazing out at these peaks might help you understand why Skye's name comes from the ancient Norse meaning 'cloud island'. The mist-enshrouded Cuillin peaks will delight all walkers, whether you fancy a gentle amble or an energetic hike. Please visit Walk Highlands for more information about routes.  Always check the conditions before you head out.
PORTREE
Portree is a great base for exploring the island, so it might be wise to book a cosy B&B here. Skye's busiest hub, travellers and locals are always coming in and out of the town. There are plenty of dining options and you might find yourself getting to know the islanders on a merry pub crawl.
With sensible shoes and waterproofs at the ready, embrace the rugged natural features of Skye's northernmost corners on foot, before learning more about Skye's clan legends at Dunvegan Castle and raising a toast to a brilliant day with a dram from the Talisker Distillery.
OLD MAN OF STORR
A place that sparks the daydreams of walkers, photographers and geologists is the Trotternish region. Here, you can see the Old Man of Storr, one of the most characteristic pinnacles of Skye and if you have time, it's worth continuing further north to complete the walking the loop of the Quiraing.
DUNVEGAN CASTLE
It's easy to get distracted by Skye's natural beauty, but the island is also filled with folklore and centuries-old history. Built on a rock in an idyllic loch-side setting, Dunvegan is the oldest continuously inhabited castle in Scotland, home to the chiefs of Clan MacLeod for 800 years. 
TALISKER DISTILLERY
Finish off the day with a distillery tour and enjoy the sweet tastes of the island's full-bodied whisky before heading back to Portree for the night. Make sure to book a tour in advance to avoid disappointment.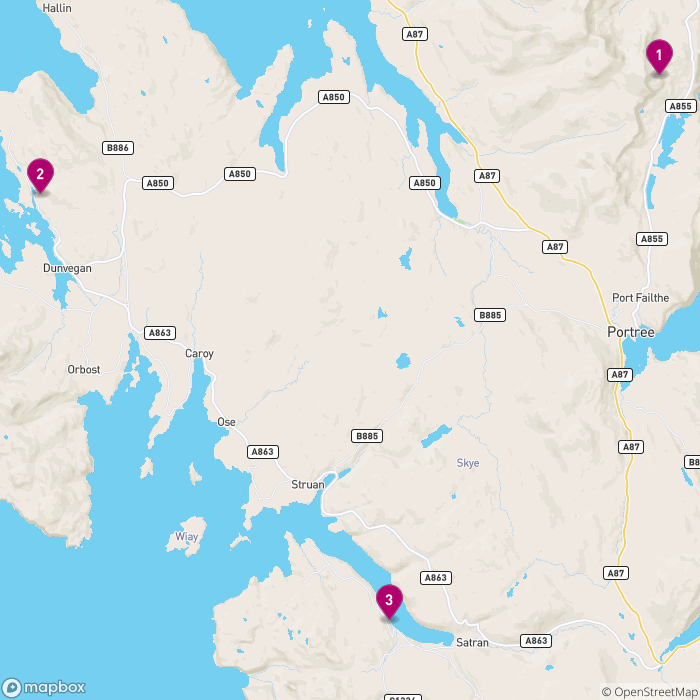 If you've got more time to extend your trip, spend another day on Skye.  When it's finally time to drive back, you can break up the five-and-a-half hour drive to Glasgow with a couple more scenic sights. Why not stop at one of Scotland's most photographed castles, or see the train that took Harry Potter to Hogwarts? 
EILEAN DONAN CASTLE
On the shores of Loch Duich, Eilean Donan Castle is one of Scotland's most recognisable castles, situated on its very own island at the point where three sea lochs meet. You might have already seen it on a shortbread tin or a postcard!
GLENFINNAN VIADUCT
As you travel south, take a little detour at Fort William to see the magnificent Glenfinnan Viaduct, which featured in the Harry Potter films. The steam train travels to Mallaig along the West Highland Line – perhaps an adventure for the next time you come to Scotland?
THE GREEN WELLY AT TYNDRUM
A lovely little half-way stop, the Green Welly has become a famous place for road trippers travelling through Scotland. Take a well-earned break here, pick up some Scottish souvenirs in the gift shop and enjoy a cup of tea and a homemade scone in the café.
BACK TO GLASGOW
It's certainly been a busy seven days, but all good things come to an end. Your camera will be bursting with beautiful pictures and memories from the west, so once you're back in Glasgow, enjoy a little bit of chill time to reflect on your adventures.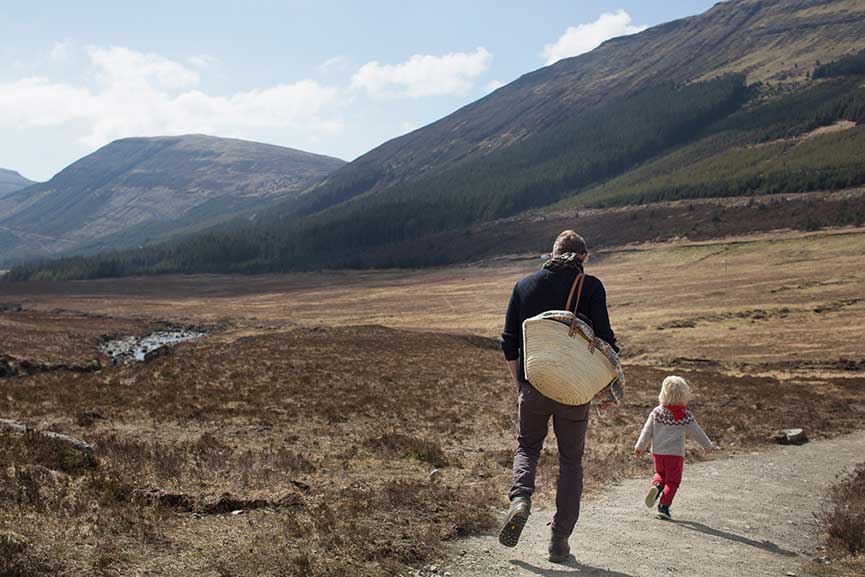 ROUTE: Base yourself in or around Aviemore and enjoy great
days out, experiencing the best family attractions and activities in the western part of the Cairngorms
National Park. This itinerary also gives you the option to take day trips further afield to Inverness and Loch Ness, and along the coastline of the Moray Firth.
HIGHLIGHTS: Brilliant wildlife and heritage attractions, adventure activities, woodland trails, historic ruins, a mountain railway, a city day trip, Nessie hunting, beaches and coastal communities, a vintage steam train ride and working sheepdogs.
AREAS COVERED: Cairngorms National Park, Inverness & Loch Ness, Moray
THE CAIRNGORMS NATIONAL PARK'S UNMISSABLE ATTRACTIONS
Explore the area south of Aviemore today and discover two brilliant attractions, the Highland Wildlife Park and the Highland Folk Museum. In addition, you can make time for a stop at the ruins of Ruthven Barracks and uncover fascinating Jacobite history. You'll pass through Kingussie and Newtonmore, two villages whose shinty teams are the fiercest of rivals – see if you can catch a match whilst you visit!
HIGHLAND WILDLIFE PARK
From Scottish wildcats to snow leopards, and from red squirrels to red pandas, you'll find an incredible mix of endangered species from all over the globe, as well as native species at the Highland Wildlife Park. It's home to wolves, lynx, beavers and wild horses; animals which at one time roamed Scotland's lands. Enjoy a safari experience as you drive round the main reserve. As you explore the rest of the park on foot, you might come face-to-face with an Amur tiger, see mighty polar bears, and watch Japanese macaques – also known as snow monkeys – during feeding times.
RUTHVEN BARRACKS
Let your imagination take you back to the time of the Jacobites as you enter Ruthven Barracks, located on a hilltop overlooking Kingussie. Now a ruin, Fort Ruthven was built by George II's forces in the early 1700s in response to the failed uprisings of 1715. In 1745, the barracks were defended by government soldiers when it was attacked by the Jacobites, but a year later, the soldiers were forced to surrender when a larger force of Jacobites carried out an assault. After the Battle of Culloden, 3,000 Jacobites rallied at the barracks only to find that Bonnie Prince Charlie had declared that the Jacobite cause was over. A visit to this historic attraction won't cost you a penny – entry is free!
HIGHLAND FOLK MUSEUM
History comes to life at this open air museum which has over 30 historical buildings. At this free attraction, see how people lived and worked in the Highlands in centuries gone by. Wander through the 1700s township with its thatched roof cottages at one end of the site, and see a working croft from the 1930s at the other. You might fancy a go at trying some traditional crafts or activities, and on some days, there are special events, such as re-enactments and vintage-themed days. You can easily spend hours here, and with picnic and play areas, it's also a great spot to enjoy a packed lunch.
NATURE AND ADVENTURE FOR ALL THE FAMILY
In the morning, visit the family-friendly RSPB Loch Garten, located only a few miles north of Aviemore. Then make your way to the pretty village of Carrbridge where you'll find countless hours of family fun. With so much to do, it's easy to spend a good part of a day at Landmark Forest Adventure Park, but you could also take some time to see Carrbridge and spot the famous Packhorse Bridge, or follow one of the village's gentle woodland walks.
RSPB LOCH GARTEN OSPREY CENTRE
Budding naturalists will love RSPB Loch Garten. This reserve is home to breeding ospreys in the warmer months, whilst the capercaillie, Scotland's largest grouse and a rare species, can be seen displaying in spring. There are plenty of trails to follow with fantastic self-guided activities, such as quizzes and bark rubbing, as well as great things to do in the nature centre. The wide paths and short trails make it suitable for both walks and cycles with the kids.
LANDMARK FOREST ADVENTURE PARK
If you go down to the woods today… you're in for tons of fun! With rides and activities to suit all ages, you'll find countless ways to blow off steam. High wire assault courses and rope jumps, a runaway train roller coaster, thrilling rafting on water slides, rock climbing and an epic adventure play centre, for starters. Take a break from the adrenalin-inducing activities and experience Bamboozeleum, filled with illusions and puzzles, or step inside the Butterfly House to see hundreds of colourful winged beauties. There are plenty of spots for a woodland picnic, as well as on-site dining options.
CARRBRIDGE WOODLAND
If you've got spare time (and energy!) after Landmark, you could take a short walk through the woodlands of Carrbridge. There are three waymarked trails to choose from, the longest of which takes just over an hour. The woodlands are home to wildlife, so keep your eyes peeled for the likes of timid red squirrels, as well as charming wooden carvings of forest creatures – Carrbridge is known for its annual chainsaw carving competition! Afterwards, you could stop at the Cairn Hotel for a refreshment in its traditional country pub.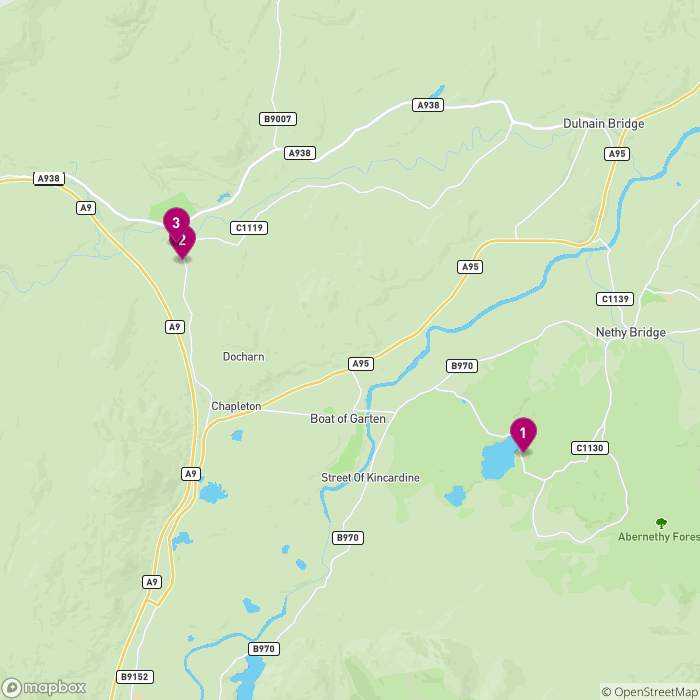 REINDEER, MOUNTAIN RAILWAYS AND FAMILY FUN
More wild encounters! Today you'll get up close with the UK's only free-ranging herd of reindeer, and even have a go at feeding them – you'll find that reindeer are not only for Christmas time! Then, scale the mighty CairnGorm Mountain on the funicular railway to experience some fantastic mountain views and more. If you've got time, squeeze in a visit to the Fun House for a round of adventure golf or for some play time in Cyril the Squirrel's treehouse soft play.
CAIRNGORM REINDEER CENTRE
Get up close and make new friends! This herd of reindeer are pretty much left to their own devices, grazing on the sides of the Cairngorm mountains. Daily hill trips depart to visit the reindeer at 11am and, in the summer months, at 2.30pm, where you'll follow an experienced herder up the mountainside. Alternatively, you can see them at the paddocks and exhibition at Glenmore. The gentle deer can be hand-fed (just wait until you feel their velvety-soft noses!).If you've ever fancied riding with sled-dogs, check out the nearby Cairngorm Sleddog Centre. Trips need to be booked in advance and are suitable for kids aged 12 years and over.
CAIRNGORM MOUNTAIN
Just 10 minutes' drive from the Cairngorm Reindeer Centre is the base of the CairnGorm Mountain Railway, Scotland's only funicular railway. Be sure to keep your ticket from the Cairngorm Reindeer Centre – if you display it at the funicular railway, you'll get discounted admission. The train will take you 3,500 ft above sea level along 2 km of track. At the top station, you'll find the Ptarmigan Restaurant and breathtaking panoramic views. If your kids can be persuaded to go for a walk, consider taking a guided hike to the summit of the Cairn Gorm. It takes about 90 minutes and the knowledgeable guides will provide lots of interesting information about the mountain's flora and fauna. Near the base station is the camera obscura, which is well worth visiting on a clear day.
THE FUN HOUSE
If you are looking for some fun in the late afternoon, then head to The Fun House, just a 20 minute drive from the base of the CairnGorm Mountain. It's located in the grounds of the Hilton Coylumbridge resort. Children can be let loose in the large soft play and ball pits of Cyril's Treehouse. Get the whole family involved in some friendly competition as you play the 18-hole castle-themed adventure golf, or play mini ten pin bowling. There's also a games arcade with simulators, air hockey and video games. On a rainy day, it's the ideal place for some family fun.
DAY TRIPPING TO INVERNESS (& NESSIE HUNTING!)
For a change of scene, why not have a day out in the Highland city of Inverness? It's just a 45 minute car or train journey from Aviemore. In and around the city there's a great range of both indoor and outdoor attractions, with plenty to do whatever the weather, including a fantastic swimming pool and ice rink. Or head along the banks of Loch Ness and do some Nessie hunting!
NESS ISLANDS
Experience nature in the city. On the River Ness lies the pretty Ness Islands, connected to the river banks by footbridges. The series of paths and bridges are great for a gentle walk, with pathways suitable for pushchairs. From Whin Park, you could also take the charming Ness Islands miniature railway. Two teeny locomotives, one named Chrissy and the other named Uncle John, ride along a ½ mile of track, with services running most weekends and during school holidays.
INVERNESS MUSEUM & ART GALLERY
If you are looking for an indoor option, take the kids to this centrally located family-friendly museum, where admission is free. With lots of fascinating objects from the past and hands-on activities for kids, you can learn about the people of the Highlands, from the Picts to the Jacobites, and Gaelic cultures. Try on 18th-century-style Highland dress, or play the Roman-era board game, Merels. In the summer holidays, there are also often special, fun-filled activities for children.
URQUHART CASTLE
Should there be some eager monster hunters in your family, then follow the A82 from Inverness to Loch Ness, home to the mythical Nessie. The stunning ruins of Urquhart Castle, located near Drumnadrochit, will capture your kids' imagination. Climb the battlements of the Grant Tower or peer into the castle prison. Nearby are the Loch Ness Centre and Exhibition and Nessieland, which both have fantastic exhibits on the mystery of the Loch Ness Monster, or you can find a boat trip operator for an on-the-loch experience!
AMAZING ACTIVITIES IN THE GREAT OUTDOORS
A trip to the Cairngorms would not be complete without trying at least one brilliant adventure activity in the great outdoors, whether it's an adrenaline-inducing experience or a gentle slow adventure! From mountain biking to white-water rafting, there's a huge choice of things to do and places to try activities – here are just some ideas to get you started.
LOCH MORLICH
A great freshwater loch complete with a fantastic sandy beach, Loch Morlich is the perfect watersports destination. Families can learn to sail, windsurf, kayak or canoe with lessons provided by Loch Morlich Watersports – you might even find your kids are future Olympians in the making. The loch and its beach lies within the Glenmore Forest Park, and from the Glenmore Visitor Centre, there are some marvellous woodland trails which weave through beautiful pine trees and alongside the water's edge. The Beach Trail has a wide, surfaced path which means it's great for buggies and wheelchairs.
ROTHIEMURCHUS
On this spectacular Highland estate, there's really not much that you can't do; quad bike treks, clay target shooting, an aerial assault course, fishing, pony trekking, Segway trips, archery, bike hire, plus great opportunities to get up close with Highland cows on a 'Hairy Coo Safari'. A number of the activities are suitable for youngsters. There all kinds of fun river activities too, including river tubing, rafting, paddleboarding, kayaking, gorge walking and gorge swimming, and you can also canoe on Loch An Eilein, a place voted the UK's best picnic spot.
LOCH INSH
In addition to Loch Morlich, you can try thrilling watersports on Loch Insh. On the water, families can getting to grips with fun paddlesports such as kayaking, open canoeing, paddleboarding and rowing. Plus, there's windsurfing, raft building, sailing lessons and pedalo hire. Should you fancy exploring nearby forest trails, mountain bikes are available for hire, including electric bikes which will help you pack more 'oomph' into your biking experience!
CRAGGAN OUTDOORS
Located not far from Grantown-on-Spey, this activity provider operates a number of activities from their Speyside location and are able to accommodate family groups of all ages and sizes. Brush up your wilderness survival skills as you try bushcraft or toss a caber as you experience a mini Highland games. Activities on land also include climbing and abseiling, mountain biking, pony trekking, mini quads, zip wire and high ropes. Practice your aim and try the fun golf-inspired activities of disc golf, or foot golf. You can also get on the water and try gorge walking, white-water rafting or canoeing.
MEANDERS ALONG THE MORAY FIRTH COASTLINE
Did you know that from Aviemore you can be at the coast in less than an hour? Have a day of touring the area east of Inverness along the Moray Firth and enjoy playing by the sea, exploring castles and more. You might even be lucky enough to see a dolphin or porpoise on a boat trip, or seals by the shoreline. It's in this part of Scotland you'll find some of the country's best beaches at places such as Nairn, Findhorn, Hopeman and Lossiemouth, so be sure to pack a towel and a beach ball!
NAIRN
Just an hour's drive from the Cairngorms National Park is the pretty town of Nairn, one of Scotland's favourite seaside destinations. Its main draw is its fantastic beach, perfect for sandcastle building, paddling and beach games. Don't forget the bucket and spade! The Moray Firth has a resident pod of dolphins and other incredible marine life. See if you can spot the gleaming bodies of these friendly creatures on a wildlife cruise with Phoenix Boat trips.
BRODIE CASTLE
Not far from Nairn lies Brodie Castle. With its rose-coloured walls and turrets, it wouldn't look out of place in a fairy tale. Explore the historic home of Clan Brodie. Kids will love the nursery, where they can see toys and games once loved by past generations of Brodie children. In the grounds there's an adventure play park, nature trail and a large pond. It's been known to hold some great family events, including special themed days and theatrical productions adapted from children's stories – a performance of David Walliam's Billionaire Boy will take place on 12 July.
FINDHORN
You could add in a visit to the charming fishing village of Findhorn. It has a lovely long beach, and seals can often be seen basking where the River Findhorn meets the sea. The village is best-known for the Findhorn Foundation, an eco-friendly, spiritual community. Should you want to check out its vibe, pop into the Phoenix Café in the eco-village, or visit the nearby Bakehouse Café, and enjoy fresh, local and organic delights. At the Findhorn Heritage Centre and Ice House, explore the chambers of a 150-year-old ice house and discover the area's fishing heritage and more (check opening times before you go). The attraction is free to enter.
DUFFUS CASTLE
If you've got time on a long summer's day, you could also make a stop at the ruin of Duffus Castle (entry is free). This medieval stronghold is a great place for kids – it won't be long before they are pretending to be fierce kings and warriors from a bygone era. If you're looking for a different route to return, head to Elgin and then drive through Speyside following the A941 to Craigellachie before joining the A95.
STEAM TRAIN RIDES, FOREST WALKS… AND SHEEPDOGS!
Fancy a relaxed day without too much driving, enjoying the best of country life? Spend some time today taking in the surroundings from the comfort of the carriage of a historic steam engine. You could then head south of Aviemore for some splendid forest walks (and perhaps a picnic) before watching trained sheepdogs working on a real farm.
STRATHSPEY RAILWAY
Choo choo! Hop on board the Strathspey Railway for a steam train adventure. Whether your kids are fans of Thomas the Tank Engine, or want to imagine that they are travelling with Harry, Ron and Hermione to Hogwarts, they are bound to be enchanted by a chance to ride the railroad tracks in a vintage locomotive. Trips run from Aviemore to Broomhill via Boat of Garten, with a return trip taking approximately 1 hour and 40 minutes. You can experience dining on board, and on some days there are special themed events.
FESHIEBRIDGE
About 8 miles south of Aviemore lies Feshiebridge, an area of forest which makes up part of the Glenmore Forest Park. There are some lovely trails which follow the grassy banks of the River Feshie, perfect for stretching your legs and getting some fresh air. One of the walks you can follow is the Frank Bruce Sculpture Trail, a gentle path lined with wooden carvings that explore Scottish culture. There are picnic benches too, should you want to enjoy an al fresco packed lunch watching the rushing waters of the River Feshie.
LEAULT WORKING SHEEPDOGS
From June through to October, you can see real sheepdogs in action at this working farm. Demonstrations are held at 4pm every day (except Saturdays) where you can see Farmer Neil and his dogs work together just as they would in the fields. Watch as the sheepdogs follow commands, diligently steering ducks and sheep through obstacles. Sometimes, there are opportunities to meet collie pups, bottle-feed lambs, or even have a go at shearing a sheep! It's a great way to experience a taste of country life that kids will love.
ROUTE: From Irvine in Ayrshire to Nairn in the Highlands
HIGHLIGHTS: Historic courses, championship courses, coastal links courses
AREAS COVERED: South, East and North